My desert is without end,
My soul, my heart must rend.
The world here out-pictured,
In which picture I descend?
If on the path you see a head
Rolling itself around the bend
Ask our secret from that head
On its answers you can depend.
What turned you to a flying bird
Solomon's confidant and friend?
How did you turn to a seeing eye
To the trees in our garden attend?
How did you become the tidal wave
And pearls and jewels to the shores send?
Not the seven skies below the heavens,
Our abode, even heavens transcend
Instead of the heavens and the world
In the pastures of Divine Union we blend.
How can I utter a sigh, for with each breath
More perturbed, more agitated, my trend.
How did this ear appear
Which heard our feathered friend
How birds of prey and game play
And in the fresh mountain air ascend.
The height of the seventh sky
Saturn will gladly defend.
What can I say, what do I know
Limits of this story I won't pretend.
Let go of this story and ask not
My broken hands, I cannot mend
You shall be worthy of the Divine
If this is what our Beloved intend.

Ó Shahriar Shahriari
Vancouver, Canada
August 3, 1998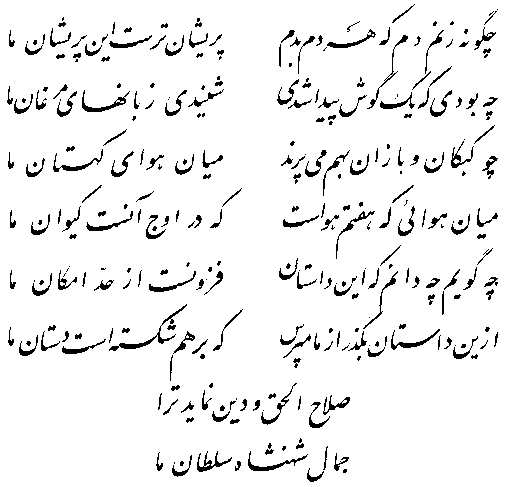 © 1998, Vancouver Canada, 1999 - 2005, Los Angeles, CA
You may use any part presented herein for non-commercial purposes only, on the condition of giving full credit to the author and to this home page, including a hyperlink, if you wish to use these material over the Internet.