To the call of the tavern arise, arise
Fear not separation, be wise, be wise
A kingly feast is your prize, your prize
Intoxicated souls don't despise, despise
You too drink this wine, see the disguise
Appearance of the Lord is a needed surprise.
You are all drunk, and your watery eyes
Like the shining sun, light up the night skies
This place is all kindness, compassion
Love, beauty, grace, goodness, passion
Fear not, fear not, enter this realm of the Wise
In this tavern for all sins, forgiveness with the Lord lies
For every ailment, divine grace is medication
The Judge of this tavern forgives every transgression.

Praise emancipation
Praise divine revelation
Praise soul's coronation
Praise joyous elation
Praise the pride of a nation
This symbol of adoration
Who brought poetic inspiration
To this house of intoxication.

Ó Shahriar Shahriari
Vancouver, Canada
April 2, 1998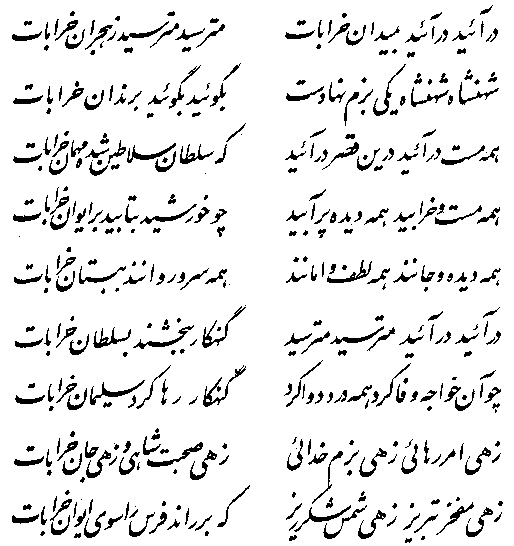 © 1998, Vancouver Canada, 1999 - 2005, Los Angeles, CA
You may use any part presented herein for non-commercial purposes only, on the condition of giving full credit to the author and to this home page, including a hyperlink, if you wish to use these material over the Internet.