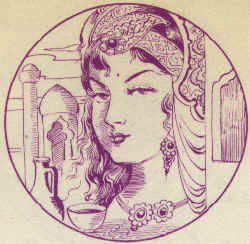 My beloved came to my side
Revived the place where I reside
I said tonight you are my fellow
My temptress, my joy implied.
Said, work of some import, dear
I have now identified.
I swear to God, if you depart
I will not last, with you denied.
At least for a night, show some mercy
For the misery I cannot hide;
Bestow your eyes' mercy upon
The tearful waves my eyes have cried.
Said, fate has shed many man's blood
I am powerless, though I've tried.
Like Mars, there is naught but blood
Even the stars to me confide.
No incense will reach the Gods
Till its aroma spreads wide;
Since you demand no less than life
Eating blood, I will abide.
You are the shrub, and I, your shade
I, sacrifice, and you my bride.
Said, sacrifice worthy of mine
Is a rarity, not all who died;
Only the likes of Isaac can
Towards my gate in death glide.
I am Love and demand your blood
Resurrect your soul when I decide
Angel of death do not oppose
I'll be glad to have you beside.
Hark, your heartbeat stops in my hand
Hark, my dagger will not be defied.
Having said this, as the morning breeze
Like flowing waters depart and divide.
You are my Isaac, I your father
I'll be by your side, with care and pride.
I said, favor me O Master
Go slowly, by my side ride;
Said, behold this world in my sight
Limping along with one leg tied.
Say no more now, till another time
Or I'll fall for love so magnified.
Be still, and be extinguished
Else your fire spreads untried.

Ó Shahriar Shahriari
Vancouver, Canada
August 5, 1998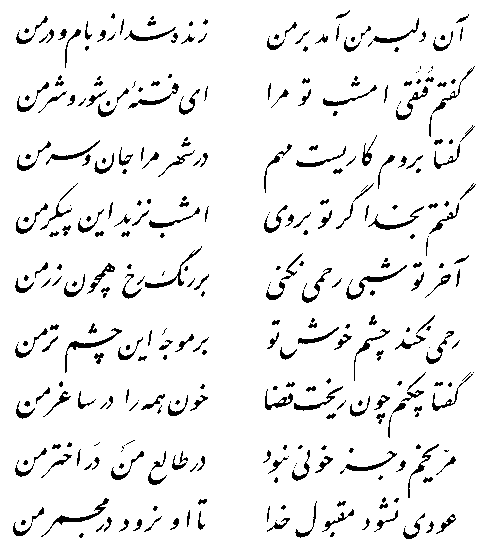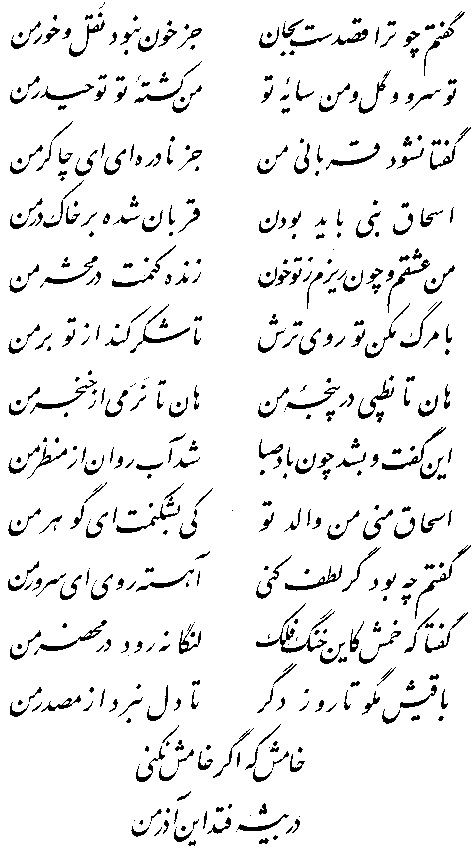 © 1998, Vancouver Canada, 1999 - 2005, Los Angeles, CA
You may use any part presented herein for non-commercial purposes only, on the condition of giving full credit to the author and to this home page, including a hyperlink, if you wish to use these material over the Internet.