Alas that now from our midst you are gone
In spite of the pain you resist, you are gone
Once the circle of friends you blissed
Now with the dust of ants and snakes blissed, you are gone.
What of all the knowledge you endlessly list
What of such mind, in the secret list you are gone.
What of the helping hand the once would assist
What of the feet that gardens assist, you are gone.
Gentle and kind, people you charmed and wist
Then earth's dust your dust wist, you are gone.
Your sweet replies no more persist
No more tongue that can persist, you are gone.
Jealously repented, strove to desist
Pilgrim of death, from living itself desist, you are gone.
Whither to, can't see your dust nor your mist
This bloody path, disappearing mist, you are gone.
Silent O heart, tongue shackles your soul's wrist
What use the flames that turn and twist, you are gone.

Ó Shahriar Shahriari
Vancouver, Canada
September 21, 1998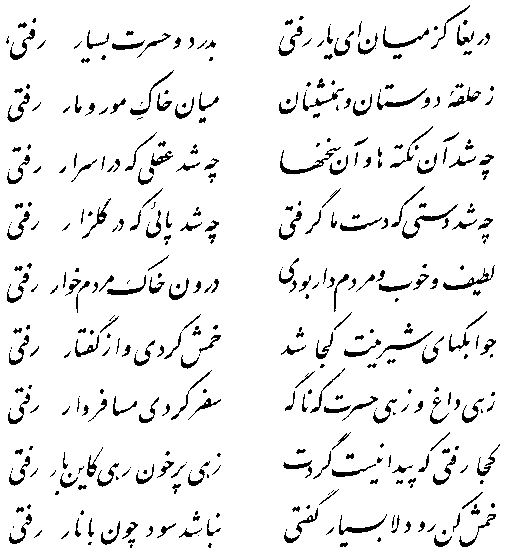 © 1998, Vancouver Canada, 1999 - 2005, Los Angeles, CA
You may use any part presented herein for non-commercial purposes only, on the condition of giving full credit to the author and to this home page, including a hyperlink, if you wish to use these material over the Internet.